| | | |
| --- | --- | --- |
| FIND A PARISH | CONTACTS | MAKE A GIFT |
---
178th Diocesan Convention, Part 2
---
The following items are now available for Part 2 of the Convention in October.
---
Bishop Reflects on Supreme Court Decision
---
 June 26, 2015
Dear Sisters and Brothers in Christ,
    By the time you read this message you will have heard that the United States Supreme Court has issued a landmark ruling that marriage is a Constitutional right which must be extended to same gender couples in every State in the nation – affirming that all the legal rights extended to married couples must be granted to them as well.
    For a growing number of people this comes as welcome, if far-too-long delayed, affirmation of the rights of the members of the GLBT community.  For others it will be seen as the imposition of unwelcome change. Either way, we will now have the opportunity to experience, as a society, what happens when all loving couples are encouraged in their commitments to each other, and are legally supported in their desire to provide for each other and their families. I join many others in rejoicing that this opportunity has finally come to us.
    The Supreme Court ruling mandates what must be made legally available to all couples. It does not mandate what churches must do. Because we have no 'established' or 'State' church, churches have the freedom to restrict accessibility to their rites and sacramental acts. Clergy cannot be compelled to act on behalf of the State.  And many churches are clear that not even members can demand to have sacramental rites performed on their own terms – churches are entitled, after all, to define their own rites and sacraments, and to exercise discretion in their administration.
    As I write this message The Episcopal Church, met in General Convention at Salt Lake City, is preparing to debate a number of issues surrounding marriage, and the decisions taken here will undoubtedly affect our response to the Supreme Court's ruling.  As soon as we have news about those decisions we will share them with you.
    As jubilant as many of us are (and I would not for a moment dampen the joyful spirit which has erupted around us), I would remind us all that the Supreme Court has rendered other landmark decisions which have not had the longed-for effect. The high court has made a number of decisions intended to end racial discrimination and ensure equality for people whose skin is dark. But even the Supreme Court cannot mandate changes in the human heart.
    During this past year alone we have suffered with brothers and sisters in St. Louis, New York, Baltimore, Charleston, and many other cities, including Indianapolis, as the reality of racial bigotry and prejudice has been laid bare in the wake of hateful and deadly violence.  This sinful state of affairs has deep roots, and for the sake of our own souls we dare not ignore our solemn baptismal vow to "strive for justice and peace among all people, and respect the dignity of every human being."  Certainly that vow has stung my heart as I watched the funeral services for innocent victims of the massacre at Mother Emmanuel Church….   
     I have watched our Church become deflected from the battle against racism more than once, as other issues have captured our attention and energy.  But I promise you that I am not going to let this drop. Our integrity as followers of Jesus depends on our being willing to "seek and serve Christ in all persons, loving our neighbors as ourselves."  All of them.  
    What we celebrate today with our GLBT brothers and sisters we must also long to celebrate with our beautiful brown, black, and golden-skinned brothers and sisters, praying  that we come to the place of rejoicing in our equality not only under the law, but in God's love and in every human heart.  
Faithfully,
+Cate
---
Episcopal Search and Transition Committee Members Announced
---
The Standing Committee announces the appointment of the Search and Transition Committee members for the episcopal election.  The members of the Standing Committee thank everyone who stepped forward with a willingness to serve and ask your continued prayers as we all discern a call to our next bishop. The Rev. Gordon Chastain will serve as the chaplain for this process.
Search Committee
The Search Committee is charged with creating the diocesan self-study, profile preparation, interviewing, and discernment leading to the final slate of nominees to be presented for election at the diocesan convention in October 2016. It is composed of the following people:
The Rev. Charles Allen, Grace United Campus Ministry

Ms. Connie Carroll, St. John's Washington

The Rev. Hilary Cooke, St. John's Lafayette

Ms. Pam Douglas (Chair), St. Paul's Indianapolis

Ms. Lara Dreyer, St. Mark's, Plainfield

Mr. George Eastman, St. Paul's, Richmond

The Rev, Richard Godbold, St. Paul's, Evansville (retired)

Mr. Dan Kincaid, Peace, Rockport

The Rev. Gray Lesesne, The Episcopal Community at Brownsburg

Ms. Terry Noble, St. Andrew's, Greencastle

Mr. Brendan O'Sullivan-Hale, All Saints, Indianapolis

The Rev. Karen Sullivan, St. Phillip's, Indianapolis

The Rev. Fatima Yakubu-Madus, St. John's, Speedway

Ms. Melissa Zurloye, St. Paul's, Columbus
Transition Committee
The Transition Committee is charged with supporting Bishop Cate and Larry as she departs, introducing the nominees to the diocese, arranging for the consecration of the new bishop in April 2017, and supporting the new bishop as s/he begins ministry with us.  It is composed of the following people:
Ms. Peggy Allen, St. Stephen's, Terre Haute

The Rev. Christopher Beasley, St. Peter's, Lebanon

The Rev. Thomas Blake, Grace, Muncie

Mr. Jeffrey Brinkmann (Chair), Trinity, Indianapolis

Ms. Marjory Burress, St. Luke's, Shelbyville

Ms. Sandra Dailey, St. Peter's, Lebanon

Ms. Jamie-Sue Ferrell, Grace, Muncie

The Rev. Stephen Gable, Peace, Rockport

The Rev. Rick Kautz, St. Paul's, New Albany

Mr. Randall Keko, Trinity, Bloomington

Ms. Rose Lane, All Saints, Indianapolis

Ms. Amy Paget, St. John's, Lafayette

 
Download: Search and Transition Committee Members Announced
---
EFHN: 2016 Grant Applications Now Available
---
Deadline July 25, 2015
The 2016 EFHN Grant Applications for agencies is available along with the cover letter and guidelines. Click on the links below to download them.
There's Still Time 
Pentecost Sunday is our designated day....but you can do projects year round including volunteering at some of the agencies in your deanery or even a neighboring deanery. 
If you want ideas or speakers be sure and contact any of the EFHN Board members or agency directors.
Please participate fully in this only diocesan-wide, Indiana outreach ingathering, which addresses a myriad of problems through wonderful agencies in each of our deaneries!  Materials and information are also available on indydio.org. 
---
Haiti Gives Thanks to Diocese for New Well
---
See the post and the complete gallery on Facebook. 
---
Draft 2016 Budget Available for Review
---
The following 2016 Budget documents are now available.
---
Bishop in Israel with Interfaith Partners for Peace
---
Bishop Waynick left Diocesan Convention and traveled to Tel Aviv for an experience through Interfaith Partners for Peace. The network is composed of clergy pairs from throughout the U.S. who are committed to peace and reconciliation, true dialogue, and two states for Israelis and Palestinians. To follow her work and study there, go to Interfaith Partners for Peace on Facebook or www.interfaithpartnersforpeace.org. 
Pictures from her trip 
Bishop Cate and Rabbi Dennis Sasso
---
Nepal Earthquake Relief: We're in it for the Long Haul
---
Make a gift at www.er-d.org or send your gift to the diocesan office marked Nepal Relief and Rebuilding.  Your gift will help The Episcopal Church be present right now, as well as longer-term when the enormous task of rebuilding begins.  Pray for Nepal. 
---
What Happened at Diocesan Convention Part I
---
Bishop Cate Waynick Calls for Election of 11th Bishop
Making an unconventional convention address, Bishop Cate called for the election of the 11th Bishop of the Episcopal Diocese of Indianapolis. The text of her address is available to read online or to download. The process will be overseen by the Diocesan Standing Committee. For more information, see The Search for the Eleventh Bishop.
News from the Convention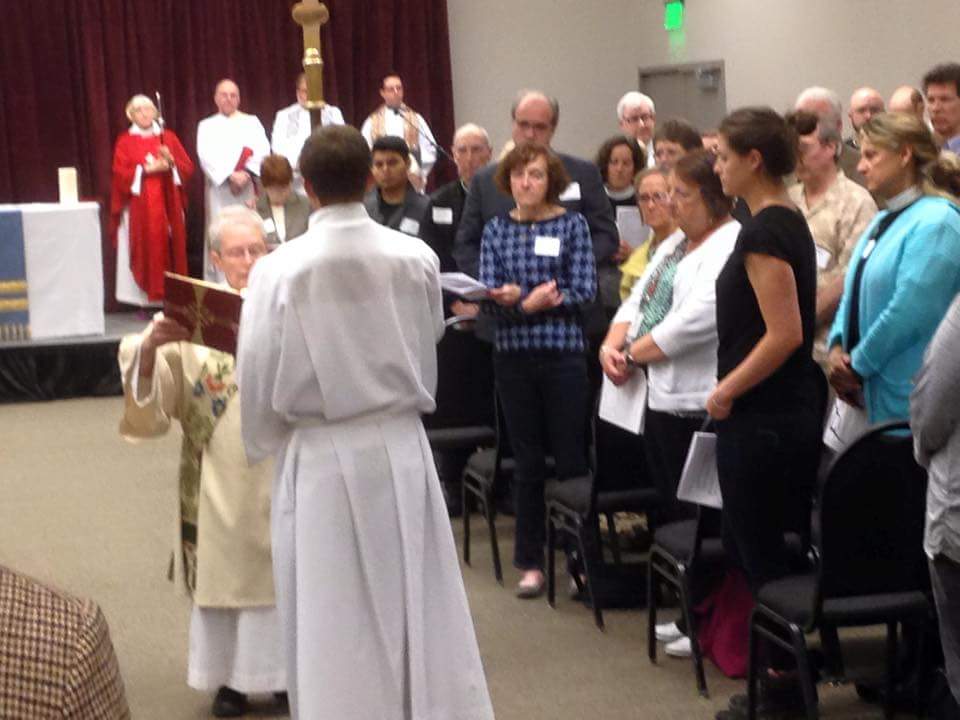 The 178th Episcopal Diocese of Indianapolis Convention met April 25 in Bloomington for part one of what will be a two-part convention in 2015, as the diocese experiments with a format that should enable more persons to participate who have Monday-Friday work or school responsibilities. More . . .
The Gospel of St. Mark and the Longer Version
Referring to his work as the newly consecrated church planter for Brownsburg, Indiana, the Rev. Gray Lesene preached the sermon for the convention worship service, telling the diocesan household. 
We are no longer in the supposed "Shorter Ending of the Episcopal Diocese of Indianapolis." Instead, we are standing shoulder to shoulder with those early disciples in Mark's longer ending, listening as our Risen Lord, in all his glory, surprises us once again with the truth and hope and joy of his Resurrection. We are all making the conscious decision to go forth with these disciples once again into the world in a new way to proclaim the good news.
Like those in Mark's longer ending, we may be a little nervous in this new moment. (I know I am.) Like them, we will make mistakes along the way. (I know we will in Brownsburg.) But thanks to you, and thanks be to God, we are no longer entranced by death and the tomb, for we are moving into new life. In our Diocese, we have decided that death and decline is not the narrative that will define us as the pundits have predicted. Instead, we are a part of a Resurrection story. The Resurrection story. God's constant story.
Read the full sermon or download it.
---
Episcopal Diocese of Indianapolis to Explore Economic Challenges Facing Clergy, with a Lilly Endowment Inc. Planning Grant
---
I am delighted to announce that the Episcopal Diocese of Indianapolis has been selected by Lilly Endowment Inc., to receive a $50,000.00 planning grant as part of its National Initiative to Address Economic Challenges Facing Pastoral Leaders.
Lilly Endowment has long been engaged in the significant work of addressing challenges to the effectiveness of clergy and the health of congregations. Through comprehensive research with numerous denominations and church communities in Indiana over a period of several years, the Endowment has concluded that a significant challenge for clergy is the stress caused by financial debt, and the reluctance of clergy and congregations to have honest, meaningful conversations about financial issues.
The planning grant will enable us to discover how financial challenges may affect our clergy, their families, and the congregations they lead and serve. Most importantly, the grant will provide us with the necessary resources and opportunities to initiate authentic and creative conversations regarding finances.
The work already done by the Endowment has provided evidence that information and dialogue can be powerful tools for creating positive change in our congregations regarding finances, and for increasing the overall wellbeing of clergy families and the diocesan household.
The planning process will provide data which will help us develop appropriate programming to address our particular needs. We will then be eligible to submit an Implementation Grant Request to Lilly Endowment in August, for the funding which would make possible the implementation of envisioned programs.
Guiding this planning process will be a committee of clergy (active and retired), spouses/partners, lay leaders, and Diocesan staff.
All clergy and spouses will be asked to participate in a confidential on-line survey during April, and several facilitated conversations will be held during our Spring Convention Day in Bloomington on Saturday, April 25. 
Helping us with this exciting and important work will be Melissa Hickman of Hickman Consulting LLC as the project manager, and Karen Gentleman of Gentleman McCarty Consulting LLC as market research consultant. 
Questions, feedback and suggestions may be directed to Melissa directly at (317) 752-5259 or at melissa.e.hickman@gmail .com
Thank you for your prayers—and your cooperation—as we embark on this journey of discovery!

+Catherine M. Waynick
Bishop of Indianapolis
---
A Pastoral Letter to the Clergy and People of the Diocese of Indianapolis
---
Dear Brothers and Sisters in Christ,
You know by now that the Indiana State Assembly has passed a measure called The Religious Freedom Restoration Act. This bill purports to protect persons and businesses from government reprisal if their decisions to treat groups of people differently (in the provision of services and goods, for example) stem from what they claim to be religious beliefs – even if those beliefs are not part of the formally professed teaching of any established religious group.
---
New Resource for Personal Reflection: Daily Prayer for All Seasons
---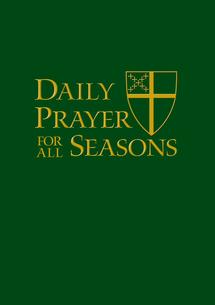 Daily Prayer for All Seasons is now available for free download on the website of The Episcopal Church here.
Developed by the Standing Commission on Liturgy and Music and authorized by the 77th General Convention in 2012 (Resolution A055), the prayers in Daily Prayer for All Seasons are presented according to liturgical season beginning with Advent and progressing through Christmas, Epiphany, Lent, Holy Week, and Easter. In addition, two sections are offered for Ordinary Time: Creation and Rest.
In each, all prayers are grouped according to eight particular themes: praise, discernment, wisdom, perseverance and renewal, love, forgiveness, trust, and watch.
---
Welcome, the Rev. Gray Lesense, Vicar of a Developing Congregation in Brownsburg, Indiana
---
---
Bishop Waynick Delivers Homily at Ecumenical Christian Unity Celebration in Indianapolis
---
Go here to read her homily
.
See all the photos from the service below (
Photos by Sean Gallagher/
The Criterion)
---
Daily Office Support Website
---
The Episcopal Daily Office online, a church wide ministry offered right here in Indiana, by our very own Josh Thomas , has reached a remarkable over 1.5 million hits and needs your support as it expands technology and continues to grow! Visit our giving site to learn more and make a gift. Thanks for your support!
---
Bishop Waynick Has Papal Audience
---
The Bishop, attending a meeting of the Anglican Centre in Rome, is pictured here at an audience with Pope Francis.
See the full story here. . .
---
Music and Mission: The Dayspring Choirs Project
---
Purchase CD's or Digital Downloads and Help Dayspring Center
Featuring music by the choirs of Holy Family, Fishers; Nativity, Indianapolis; St. Francis, Zionsville; and Trinity, Indianapolis.
All proceeds from sales of this celebration of music and mission will be used to provide emergency care, essentials, and support services to Indianapolis-area homeless families and children at Dayspring Center.
Click here for a preview and purchasing information. Not interested in the CD, but want to make a gift to support Dayspring's mission? You can do that through this link as well.
---
A Message from Bishop Waynick on Same Gender Marriage in Indiana
---
The recent decision of the Supreme Court, not to review the rulings of lower courts on the legality of same gender marriages, has altered our reality in the State of Indiana. Same gender marriages are now legal in our State. Some among us are elated, believing this should have happened long ago. Others are dismayed and angry, believing that marriage is diminished in some way by this change. Others are simply bewildered and not quite sure how they feel about it.  No matter what a person feels about this change, it has happened – it is part of the reality of life in the world around us. . . .   
Click here to read the full text.
---
CELEBRATIONS, CONFERENCES, RETREATS, & EVENTS
---
---
---
 PARTNERS IN MINISTRY
---
---
The Diocese of Indianapolis has partnered with others---locally, nationally, and internationally. By working with them towards shared goals we have extended our ministry and our outreach. Our partnerships allow us to have a greater and wider impact than we would be able to on our own.
In the midst of an extraordinary human needs crisis, we're mobilizing to provide food, water, and medicine to the people in our partner Diocese of Bor in South Sudan.  Your help is needed!  Find out more.
---
What You Can Do
---
PRAY, continuing and strengthening both your personal and parish commitment to offering prayer support for our brothers and sisters in our partner Diocese of Bor and beyond.
LEARN AND SHARE YOUR KNOWLEDGE, using educational resources such as stories, photos, videos, and bulletin inserts from the Episcopal Church via this link:http://www.episcopalchurch.org/notice/presiding-bishop-calls-prayer-south-sudan-and-sudan And, here in our diocese www.sharinglovewithsouthsudan.org
You can help call greater attention to this crisis via social media with #southsudan #sharinglovewithsouthsudan #pintheworld #indyepiscopal #episcopalIN
GIVE, offering support in the face of unprecedented needs for food, water, medicine, and mosquito netting. You can continue to support our diocesan effort with our partner Diocese of Bor by making online gifts or obtaining heart-shaped pins to sell at www.sharinglovewithsouthsudan.org  OR sending checks to the Episcopal Diocese of Indianapolis at 1100 W. 42nd Street, Indianapolis IN 46208.
You can also support South Sudan via your gifts to Episcopal Relief and Development at www.er-d.org
ADVOCATE, offering letters and calls of support for South Sudan to your Congressional representatives and the White House.  You can find a link to addresses and phone numbers at www.sharinglovewithsouthsudan.org.
Global Partnerships
---
Brazil, South Sudan, and Haiti  
---
The Diocese of Indianapolis shares in a three-way covenant relationship with the Diocese of Brasilia in Brazil and the Diocese of Bor in South Sudan.  We also participate in the Haiti Partnership program and help support St. Andre's parish and school in Mithon, Haiti. 
We continue to raise financial support and offer up prayers for the people of the Diocese of Bor, in South Sudan. See the top of the home page and SharingLoveWithSouthSudan.org for our most current news and updates on the situation there and what we are doing about it.
Work on the new St. Andre's school in Mithon was completed in 2014 and members of the Diocese of Indianapolis attended the dedication this summer. 
---
Alleluia, The New School in Mithon Haiti Has Been Built!
---
On July 22nd, ten members of the Diocese of Indianapolis (including three Trinity, Bloomington members: Ruth Witten, Randy Keko and Matthew Cole) traveled to Haiti to participate in the dedication of the new school in Mithon, Haiti. This school was built with funds provided by the Diocese of Indianapolis.
Click here to read the complete story. 
---
---
 A new web site has been launched for the support of the Lunches and Lessons ministry project for St. Andre's School in Mithon, Haiti. The site features information, photos, and videos about this much neededd program and how we can support it. Go to LunchesAndLessons.org for more information on this ministry and giving opportunity.
Cooperating Ministries
Other Partners
The Center for Congregations strengthens Indiana congregations by helping them find and use the best resources to address their …
When Haiti was devastated by earthquake damage on January 12. 2010, we developed a special partner relationship to assist them i…
Waycross is a year round center, hosting residential & day conferences, meetings, and events for both adults and youth with uniq…
---
---
 MORE . . .
---
---
Sharing Our Currencies Protocol
---
Sharing our Currencies Protocol
---
No one lights a lamp and then puts it under a basket.  Instead, a lamp is placed on a stand, where it gives light to everyone in the house.
The Diocese of Indianapolis is rich with many currencies of Gracious Leadership that can be shared…if others only knew they were available!
We are putting together a
Sharing our Currencies Catalog
of workshops and courses available by people like you and we would like your participation.  
Simply click on this link
 and use the form to share your currency of Gracious Leadership!
The
Sharing our Currencies Catalog
 can be found by
clicking here
. It is available to all.  Sharing your currency of Gracious Leadership is just one way of sharing in networked creative leadership in the Diocese of Indianapolis.
Disaster Response
Emergencies: Getting Your Parish Ready
Download this guide from FEMA
Guide for Developing High-Quality Emergency Operations Plans for Houses of Worship
---
Episcopal Relief & Development
Episcopal

 Relief & Development helps those struck by disaster both in the U.S. and around the world.

Website - Press Releases - Donate Now

You can help as well. Visit their site to see how.
Helping Others
The Episcopal Fund for Human Need (EFHN) is a diocesan-wide ministry that provides an emergency safety net for those in central …
Episcopal Relief & Development is the international relief and development agency of the Episcopal Church of the United States, …
he Miles of Pennies Fund was established in 1988 on the 100th anniversary of The Church Periodical Club. The Miles of Pennies Fu…
The Episcopal Diocese of Indianapolis maintains a special commitment to ministries of health and wholeness. National Episcopal …
The United Thank Offering (UTO) provides a way for you to give thanks for your daily blessings with a simple spiritual disciplin…